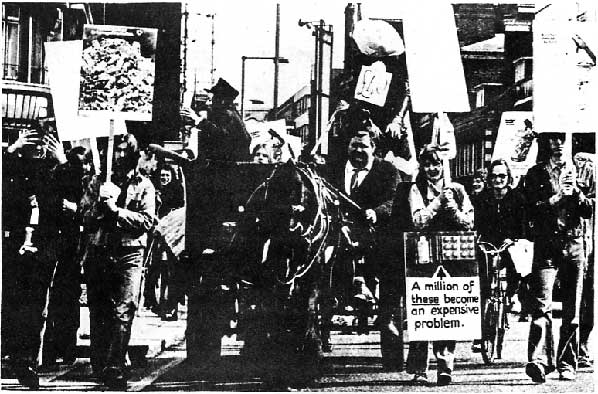 A conversation with a North-East Ecologist.
DON KENT and his wife Jane have been deeply involved with the north-eastern ecology / environment movement practically since its inception. A member of both Friends of the Earth and SOC'EM, Don is also the local organiser for Commitment. I wanted to speak with him mainly to find out more about Commitment - perhaps the least well-known of the several environmental groups in the area - but our talk ended up covering much wider issues.
COMMITMENT
One reason why Commitment is practically unheard-of in the north-east is because Don and Jane are the only local members! Don explained: "Commitment is quite strong in London, but it seems to be quite thin on the ground anywhere else.
"We found out about it first when we went down on 31 March to London, where Commitment were blocking off Piccadilly Circus from cars. There were about 400 people there and a lot of police, who swooped in and arrested the obvious ringleaders". The attempt to block the road was in fact not much of a success as most of the remaining protesters seemed unwilling to do anything. "I ended up as one of the organisers - it became that ridiculous!"
Commitment sees itself as a political ecology action group opposed to the subordination of man to machines, nature to man, and people to other people. As Victor Anderson wrote in Peace News: "The environment does raise basic political issues and does require militant action for social change".
Earlier this year they pressed for an Outer Circle Line to be added to London's underground railway system. They ran their own train around the city's ring railways and printed stickers which added a ring railway to the normal map of London Underground. They followed this up with nationwide campaigns against juggernauts and car and petrol manufacturers. The latter took the form of sticker raids ("Pollution - Your Lungs Their Profits!"), and Don, joined by members of the NUSS, sallied into Newcastle to only find about three reachable poster-victims in the centre of the city - most of the car and petrol adverts being either on giant hoardings or on the backs of buses!
Nevertheless, it is the means of protest used by Commitment which catch Don's imagination. "They've got some good ideas in London - posters, stickers, leaflets, petitions, public meetings, exhibitions, demonstrations, phone-ins - and it only needs some loose organisation to get the thing off the ground up here".
ENVIRONMENTAL GROUPS
Being a member of both SOC'EM and Friends of the Earth (where he is trying to start a hunt saboteurs' section) as well as Commitment, Don is well aware of the current diversity in the north-east's ecological scene. "I just feel there's a mess in the north-east at the moment - there's so many groups doing nothing. Things are very confused - there's just been a big blast-off in SOC'EM - and meanwhile the councils are carrying on as usual. At the moment the only thing that's getting a boost along Tyneside is the TEC Information Centre".
PUBLIC SUPPORT
"'Environment' is the most over-used word in the entire dictionary", said Don, agreeing that the general public had been subjected to environmental overkill by the mass media. As examples of misuse of the concept, Don referred to Newcastle Rotary's Impact exhibition which, sponsored by such ecological experts as Alcan, the Blue Circle Group, ICI and NEEB, attempted to shift the blame for environmental cock-ups onto the general public, and 'Diversion' - Newcastle Corporation's roadworks report in which propaganda half-truths are pushed out by Redheads & Associates Ltd.
Don denied that inter-group squabbling was causing public support to turn away from the environmental movement. "Everybody's got so much else to think about - unemployment, how they've got to live ... the north-east is such a run-down area: people just haven't got the will to do anything. Motorways were drawn up in 1960 and are out of date now, but they say it's progress - you can't stop it.
"Here, fighting environmental battles you are fighting unions, the unemployed, the big bosses, the councils - so you've got no support at all except from people who are environmentally aware". As a contrast, Don showed me a cutting from an Australian newspaper about building unions refusing to work on projects which they considered detrimental to the environment.
New ways of raising funds, however, are being constantly explored. A SOC'EM society at Newcastle Polytechnic qualifies for a grant from the education authorities; Friends of the Earth (North-East) has just bought some duplicating equipment from money raised by Hawkwind at a gig in Croydon; and, of course, the original Lindisfarne gave a lot of help to SOC'EM in the past.
THE FUTURE
"If we win the inquiry over the Jesmond motorway next month it'll mean the end of the whole Newcastle motorway system. If not, there'll still be plenty else to do."
"What I'd like to do with Commitment, along with every other environmental group in the north-east, is make a real show when petrol rationing is introduced and Sunday motoring banned - turn the empty streets into a carnival."
"I think we need a two-tier group scene - the talkers and organisers and another section which is purely action. This lets people do what they're best at doing, and scattered throughout the groups in the north-east are some really good people."
Don is holding a meeting at the Old George Inn, near Bigg Market, Newcastle, at 7pm on 12 December to discuss the future of the movement in the north-east. Members of Friends of the Earth, Gateshead 2000, North-East Survival, The Peace Pledge Union, SOC'EM, Sunderland 2000, TEC and Transport 2000 and anyone else concerned about the environment are invited to attend.
What happens at the meeting will depend on who goes along. Perhaps an underlying strength and unity will be discovered, perhaps resources and experience can be pooled, or perhaps just one more little group called Commitment will emerge from it all to do its bit for a saner world.
(Don's address is 32 Strothers Terrace, High Spen, Co Durham)
Tristan