Jazz - The Navy Club, N'cle
"I GOT A RAGTIME DOG AND A RAGTIME CAT,
A RAGTIME PIANO IN MY RAGTIME FLAT,
WEARING RAGTIME CLOTHES FROM HEAD TO SHOES,
I READ A PAPER CALLED THE RAGTIME NEWS,
GOT A RAGTIME MOUTH 'COS I TALK THAT WAY,
DREAM IN RAGTIME AND I RAG ALL DAY,
GOT RAGTIME TROUBLES WITH MY RAGTIME WIFE,
I'M CERTAINLY LIVING A RAGTIME LIFE."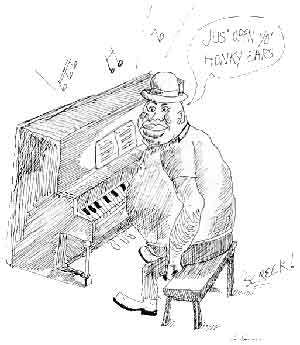 Amongst the most esoteric of Newcastle's hidden worlds must be that of vintage jazz (broadly consisting of Dixieland, New Orleans and Ragtime). Since the demise of the New Orleans Jazz Club, Forth Banks, the scattered legion of jazz fanatics still come together in mysterious Lovecraftian premises.
One may witness such gatherings as for example the Navy Club, Bigg Market, which at my last visit was a sparsely decorated room shaped like the front of a battleship with a small stage at one end over which is hung a life saver, the whole being decorated in a battleship grey and navy blue. The whole mood is a classical 1930s Players advert.
One may turn up at such an impromptu gathering and encounter clarinet, trumpet, tuba, washboard and banjo playing, appropriately enough, 'Salty Dog'.
The musicianship could well be excellent, featuring the mellow supple clarinet of John Saxelby with that 'aged in the wood' timbre and the hot exciting trumpet of Clem Avery, a piratical figure whose weekly spot at the New Orleans Jazz Club was not to be missed. Most of these guys have been playing around together for more than a decade for the sheer love of it.
Someone who certainly 'leads a ragtime life' is the ragtime kid himself, otherwise known as Dave Kerr. As well as having an almost definitive collection of source material he is also the proud owner of a pianola (or player piano) - you know, stick on a roll and work the pedals and it plays 'original Jelly Roll blues'. As well as playing the player piano (recently featured on the radio programme Jazz North East) Dave is accomplished on washboard, drums and skulls (a 1920s kind of nickey nockey set of wooden things painted in red and gold) and is one of the few local practitioners of classic ragtime.
Obviously one can't cover the whole jazz scene in one article but I cannot conclude without a word about the North's own Barrelhouse Queen, Sheila Giles. In these profane days of microphones and PAs it is fascinating to hear a singer who can project over a piano, bass and guitar etc and still be heard at the back of the room.
Sheila sings in the Bessie Smith idiom with a liberal dose of Geordie public house folk-holler mixed well in. Though built on more delicate lines than Bessie and Ma Rainey, Sheila can put over a tune with the best of them.
You can turn to your What's On for more information. See you next time folks.
Mike Maurice