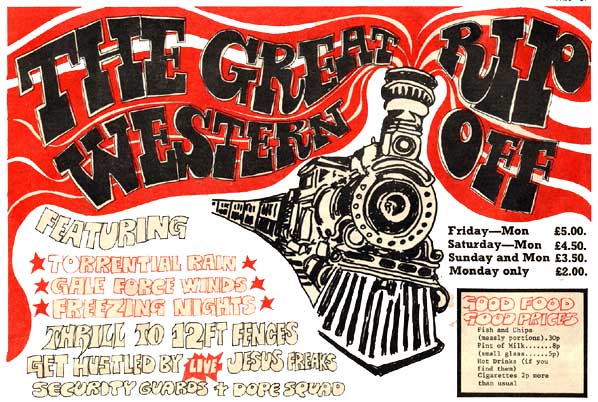 Last month saw the coming of Britain's new Big Business boom in the form of two pop festivals (Bickershaw and Lincoln) which were unprecedented in their advertising, security precautions, superstar billings, high prices and even higher fences. It is a great shame that the innocence and spontaneity of past festivals have been smothered by groups of big businessmen cashing in to the full on people's enjoyment. Bath and the Isle of Wight may have been surrounded by hype, but not to that extent.
Most of the people who went enjoyed themselves and the bands gave a high standard of music. In fact it is not the event that is to be criticised so much as the organisations and the principles behind them.
We can have a free festival as good as Glastonbury last year, which was an amazing success, and even had free, or at least cheap food. Then there's the Rolling Stones, Pink Floyd, Blind Faith free concerts in Hyde Park. So why do we pay £5 to go to Lincoln?
Joe's Cafe, present at both Bickershaw and Lincoln, was selling cheap and reasonable food (12p a meal) but at Lincoln they weren't even on the site.
Although in the organisers' minds Bickershaw was a flop, I think Lincoln proved that a properly organised event can be a success for the organisers. But the people who went would certainly have enjoyed it much more if it hadn't cost them a hell of a lot of bread and don't forget those who couldn't go 'cos they couldn't afford it.
Bickershaw Festival
The site, near Wigan, can only be described as a mud bath. OK so the organisers couldn't control the rain, but what about the pond in the middle of the site which they said would be fenced off and never was? Still, mud and rain soon dries and washes off and I think that's the way most other people thought about it.
Anyway, the music was good all weekend - and so were Joe's lights, notably during Hawkwind's set on Friday. There were good performances from 'Captain Beefheart', 'Dr John' and 'Country Joe' who put life back into the crowd with nice music and a long 'fuck Nixon' chant. He was followed by a nice set from 'New Riders of Purple Sage' and then along came 'The Grateful Dead' who played really excellent sounds for 5½ hours that I can only describe as Far Out!
A good firework display was put on as the 'Dead' played. Other big commercial attractions were the giant video screens each side of the stage, circus acts and an aerial display no less. The screens were certainly welcome as they meant that people could at least see the stage without getting squashed at the front. It's a shame they don't work during the day. There were also video screens at Lincoln. The circus acts, although good, were obviously an extravagant extra. I would like to add that 'Time Out' did a good job with their information points at both festivals.
The organisers have since complained that they lost money due to the large amount of people who got in for nothing. Shucks!
Lincoln
This festival was at Bardney, and the groups that played were more 'commercial' than at Bickershaw, and the audience seemed to be in a slightly younger age group. The site is on very flat land and had good natural drainage, which is very fortunate, as there was really heavy rain on the Friday night and Saturday wasn't much better. Gale force winds destroyed two big marquees which were for folk music in one, and lesser known rock bands in the other. Sunday and Monday didn't suffer so much from the elements. The only thing to do when it rained was to count oinkies!
On the main stage the 'star' attractions, 'The Faces' on Saturday and 'Joe Cocker' at the end on Monday, were not up to standard. Cocker seemed to have lost his drive and didn't go down well having followed Sha Na Na who, for many, were the best band to play. Other bands who were good were Lindisfarne, Stone the Crows, The Incredible String Band, Beach Boys, Humble Pie and Slade.
As I said before, this was an extremely well organised festival and as far as music goes cannot come in for much criticism. However, if, as rumoured, Great Western Festivals organise another festival in August with the Rolling Stones, I hope they attempt to keep prices down and allow people who are willing to do cheap food onto the site. We mustn't forget that bands seem to want phenomenal fees nowadays which doesn't help to make admission prices cheaper.
Don